PHOTOGRAPHER DANIEL MOTTA
Hey, everybody. I'm Daniel Motta, and I'm a Dallas-Fort Worth-based photographer who specializes in wedding photography, engagement photography, corporate headshots, portraits, and events.
Since before I even owned a camera, there's been something about photography as an art form that I've been in love with. I think a lot of it has to do with the relationship between the photographer and the subject, and how two intangible ideas, batted around and collaborated on, can become a reality, all thanks to this objective little box that stands between them: plastic, metal, circuits and glass, greater than the sum of its parts, a bridge connecting two creative outlooks, with the goal of preserving a moment forever.
I knew this in 2008, when I got my first camera. I had an instinctual appreciation for this romantic quality, but in those first few exposures, honestly? I didn't really know what I was doing. All I knew was that I wanted to take pictures of everything and anything — with photography, the world is a laboratory, so there I was, wandering aimlessly around the streets of Dallas or through the Botanical Gardens, experimenting, finding out new things about exposure, about composition, and (getting deep, here) about myself.
Since then, I've had the chance to work with mentors (one in particular — you know who you are) and subjects, each of whom has helped me grow into an aesthetic that's become deeply personal. You could debate for hours about whether an artist of any kind should have the right to speak for his or her own work once it's been unleashed into the world, or if that dialogue should be left to the viewer. But if I can go out on a limb, I would say that my images strike a balance — they're crisp and vibrant; colorful, but not gaudy (and never filtered); minimalistic enough to glance at, but always containing enough depth to get lost in, if you're so inclined.
After working with dozens of companies and photographing scores of weddings in my hometown of Dallas and around the country, I can honestly say that I would never want to do anything else for a living. I've been around the block a couple of times, but I've never found a sense of humbling satisfaction that quite compares to getting that really amazing shot: a Dallas-area corporate client who sees their highest potential depicted in one of my images; a portrait subject who sees a revealing, pure aspect of themselves that they didn't know existed; some just-engaged kids who get to see the freshness of their love preserved in a way that they can pass down through the generations; the emotion of a newly married couple who knows that grandma isn't going to be around forever, but she had a great time at the wedding by golly, and here's a piece of proof they can hang on their wall. It's magical, and I love every minute of it.
CORPORATE CLIENTS
I've had the pleasure of working with some of the most well-established business in the Dallas-Fort Worth metropolitan region. Here are a few; please reach out for a full client list.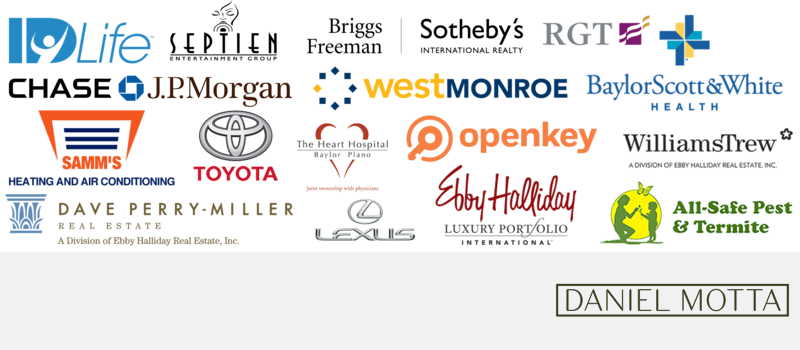 PUBLISHED WORKS & AWARDS
My photography has been featured in some of the mainstays of the Dallas-Fort Worth-area magazine world: D Magazine, Brides of North Texas, Toyota Today, Success from Home Magazine, Fine Home Collection, Grand Vie, and Colleyville Charm, just to name a few.
I also received the Wedding Wire Couple's Choice Awards for 2016 and 2017, and am honored that I've been able to provide such a high level of service to my wedding couples.
HOW TO HIRE ME
If you're interested in working together, feel free to get in touch. You can email, text, call — whichever is best for you. I'll answer and questions you might have, or maybe we can set up a time to meet for a cup of coffee. I'm looking forward to it.