PHOTOGRAPHER DANIEL MOTTA
I am a Dallas Photographer that specializes in wedding & engagement photography, headshots, portraits, and event photography.

I'm perhaps best know for my crisp, vibrant, true to color, and minimalist appeal in the photographs that I take. My imagery is very simple, and I love to put the main point of focus on my subject and not the background.
My professional responsibility as a wedding photographer is to help craft beautiful moments of your day with ease, laughter, dedication, and thoroughness. As your photographer, I promise to deliver amazing images and to capture everything that makes you, you!
PROFESSIONAL PHOTOGRAPHERS
I always loved the idea of photography and honestly never knew that this would one day be my calling. My story actually started back in 2008 when I acquired my first Nikon Camera. Not really knowing what to do, I took pics of absolutely anything and everything. You could usually find me roaming the streets of Dallas or taking landscaping pictures at the Botanical Gardens. I specifically remember posting one image I really loved onto Facebook, where it gained a lot of attention.
I didn't really understand why it was a good image but it made me want to learn more about photography, and after a few years of playing around I decided that I wanted to be a wedding and corporate photographer. Luckily, I had a mentor that showed me the ropes and taught me the way weddings should be photographed. As of today, I have photographed over 100 weddings and I loved every single minute of it!
I relate best with clients that share the same appreciation for great photography as I do, after all it's important for a photographer to bring out the best version of you!
ARTIST STATEMENT
As I mentioned earlier, my photography style is very minimalist in nature. Minimalist refers to the idea that my photographs tend to focus more on my subject than having busy backgrounds with lots of clutter. True to color means I don't put fancy filters on top of my images, which can make skin tones and colors look unnatural. The images that you receive are an enhanced version of what comes straight out of my camera.
Through my imagery, you're getting my take on the world through my lens, and perhaps that's one of the biggest reasons why I love photography so much. It brings joy to me when I get to photograph people!
CORPORATE CLIENTS
Here is a list of some of the most known clients that I've worked with, they include Ebby Halliday, Dave Perry Miller, William's Trew, Toyota, ID Life, Baylor Scott & White, Baylor Heart, RGT Wealth Advisors, Samm's Heating & Air Conditioning, Hootsuite, All-Safe Pest & Termite.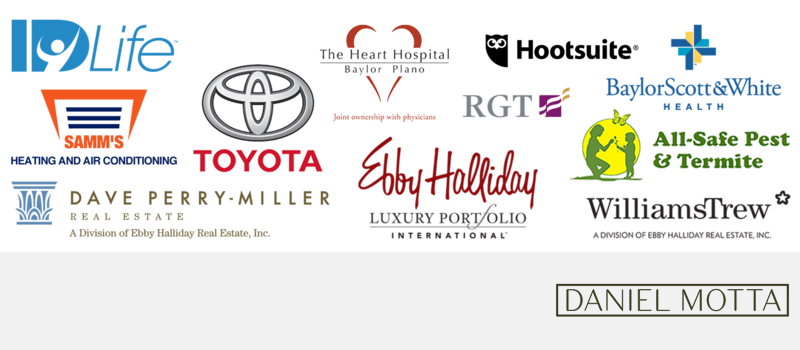 PUBLISHED WORKS & AWARDS
My photography has also been featured in Brides of North Texas, Toyota Today, Success from Home Magazine, Fine Home Collection, Grand Vie, Spirit Magazine, and Colleyville Charm.
I also received the Wedding Wire Couple's Choice Awards for 2016, and 2017 for providing the best service to my wedding couples.
CELEBRITY SUBJECTS
I've been blessed throughout my career to have photographed public figures like Pudge Rodriguez, Troy Aikman, Jennifer Widerstrom, Hollie Cavanagh from American Idol.
In my early to mid 20's, back when I had long hair (if can you imagine that), people often told me that if Dave Grohl from the Foo Fighters had a baby with Dave Navarro from Jane's Addiction, then I would be him! I will gladly take that compliment!
That last paragraph is completely irrelevant, I just wanted to see if you were still reading.
WORKING LIFE
In my teenage years I had a wide range of different jobs where I worked as a waiter at Mimi's Cafe, stocker at Office Max, and a Car-wash Detailing Expert. Back then, I had, and still do have a huge love for cars. I worked as an automotive technician, and eventually worked my way up to a service manager position for 10 years.
To finalize this list of personal details, I did attend college and majored in music before changing my major to business, and once I discovered photography I was absolutely hooked and took every bit of knowledge from all my past employers with me.
PERSONAL QUALITIES
My friends think of me as caring, hard-working, dedicated, bearded, trustworthy, funny, passionate, quirky, personable while my girlfriend thinks I'm a total goofball.
HOW TO HIRE ME
I am in love with what I do, and I'm looking forward to telling your story. If you've actually read this whole biography I think you're super awesome! Please contact me now so I can help you achieve your professional image goals!